Walk In Wardrobe Design Ideas
A well-designed walk in wardrobe can solve so many of your storage problems, you'll wonder how you ever managed your Melbourne lifestyle for so long without one. As the name suggests, a walk in robe is big enough to walk in and move around as you choose the clothes you want to wear. The size and design can be whatever is viable for the space or whatever you want, from small to room-sized, with enough room for either one or more person's clothing.
Walk in robes allow you to store your clothes and accessories in one place where they are  organised in a way that makes them instantly accessible. Such a well-designed storage solution removes the need to rummage through an overstuffed wardrobe to find that favourite black cardigan or a special shirt or tie. To make the most of your walk in wardrobe in Melbourne, Versa Robes can design a custom built wardrobe solutions to suit any budget or space and help you plan one that suits your needs and incorporates your ideas.
What Makes a Good Walk in Wardrobe?
Custom designed walk in wardrobes should be sanctuaries where everything is organised, and there's a deeper space to hang long dresses and coats, and shorter spaces for skirts, pants, shirts and suits. The design should provide plenty of room in between the clothes and other items, so they don't look stuffed inside, or so squished together that you can't see the wood for the trees. Drawers and shelving can house folded items, bags, shoes, and jewellery. Remember, your walk in wardrobe storage solution needs to be well ventilated to keep your clothes fresh. Include a chair or ottoman so you can apply your makeup, put on your shoes, and dress in comfort. A long mirror to allow you to see yourself from the front, side, and back is a good idea also.
---
At Versa Robes, we build custom wardrobe solutions that are designed just for you, but this does not mean they cost a fortune. 
You can have a basic, functional walk in robe that makes the most of the available bedroom space, or you can have an opulent dressing room fit for royalty.
---
Choose Shelves of Different Shapes and Sizes
Versa Robes can custom-build your walk in wardrobe in Melbourne with shelving of every height and shape, according to what you need to store. Shelves are less expensive than drawers. They're more practical and work best when placed at waist height or higher for storing folded shirts, trousers, jumpers or T shirts. Shelves are a great idea for storing your collection of handbags, and slightly angled, narrow shelves along the bottom of your walk in wardrobe can house shoes. Wire baskets make great containers for miscellaneous as well as most folded items.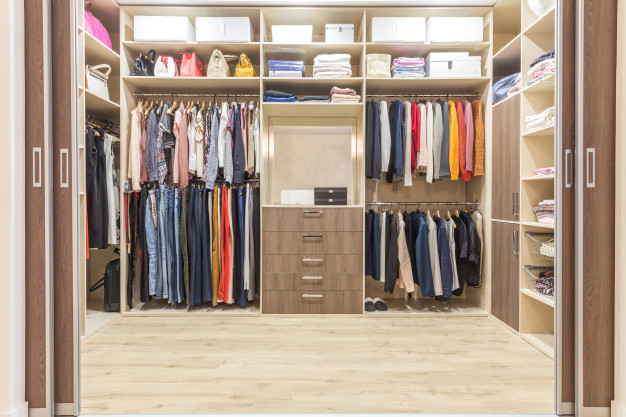 Hooks, Rods, Racks and Rails
With a few hooks, you can make use of the space behind your walk in wardrobe or cupboard doors for hanging belts, ties, scarves, and bags, or  incorporate trouser racks and or tie racks into the wardrobe instead of hooks. Trouser racks are also worth considering for two reasons: You don't need coat hangers, and trouser racks make sure anything hanging lower is easy to reach.
Hanging rails make perfect hanging solutions for your Melbourne walk-in, with a mix of both long and short sections for the various length of your clothes. You may need twice the number of short rails for pants, skirts, shirts, trousers and short jackets.
Dividing the Drawers
Make more space and get more use out of drawers by dividing them into sections. Versa Robes in Melbourne has hundreds of designs for walk in wardrobes and offers segmented drawer options and tweaks that make use of all available space. Drawer dividers help you organise your smalls such as ties, underwear, socks and stockings
---
 At Versa Robes in Melbourne, our design consultants take the time and effort to explain every detail, large and small, so you know which of your ideas and our expertise will work so we can build you a walk in robe you will absolutely love
---

Make Use of Blank Walls
Blank walls are often wasted in walk in wardrobes when there are artful ways to hang accessories on decorative hooks or thin rails. Avoid getting your jewellery tangled up as it often does in a drawer.- another idea is to store your jewellery in a luxurious felt lined purpose built jewellery tray.
Hats and Dirty Laundry
Don't forget you need a place for hats and dirty laundry in your walk in wardrobe. Baskets are a good solution for the dirty laundry, and good sized shelf space takes care of the hats. Baskets are also a handy way to store your out of season items such as swimmers and ski clothing.
Include a Shoe Carousel
If you are a shoe-aholic then you may need to organise a custom design that incorporate tiers of shoe racks or a shoe carousel is another option.
Some Extra Tips:
To avoid indents in clothes, line wire baskets.
Store seasonal items, linen and occasionally worn items in boxes on a top shelf.
For a custom made walk in robe, think about a timber-grain laminate as a stylish and economical design statement.
If you have no natural light, use cool bulbs which provide more clarity than warmer globes.