It's time to share some more creative storage ideas, this time using the space beneath your stairs! It doesn't matter if you need storage for books, gadgets, knickknacks, food or clothes and shoes – there's a creative stairs storage solution for it all!
If you want your very own Harry Potter cupboard space in your home, optimising the space under your stairs is the best place to start. Under stair storage is underrated and is the perfect solution if you have a staircase and need extra storage ideas but don't have the room around your house. We have come up with a few under stair storage ideas to get you started. View our under stair storage flyer.
Under Stairs Storage Ideas – Shelving


Here we have an attractive yet practical way to utilise space and declutter your home!
Storage ideas such as adding shelves or cabinets under your stairs can utilise the extra room you may not realise you have in your house. It can also increase the appeal of your living room and hallway, which is usually adjacent to the staircase in your house. The easiest way to utilise the unused space under your stairs is to add shelves, which adds storage space but also frees up floor space in your house! For example, it can be used as a home library or even a reading nook where your kids can enjoy reading their books in the space under the stairs. Every home needs extra storage space, so why not use the space under the stairs?
Under Stairs Storage – Shelving And Cupboards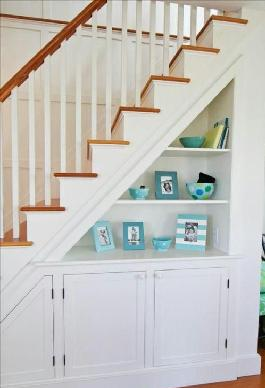 Want easy access to the items you've stored, or your treasured items that are on display? Add some under stair drawers, cupboards and shelves to the space under your stairs.
This is one of the best and easiest ways to use the under stair storage space available to you at your house. Adding shelves can help you place items on display and if you don't want them catching dust you can put them in a cabinet with glass doors so they're protected. Our team can assist you with your design ideas, whether you want extra cupboard storage as well as shelving storage options beneath the stairs that can free up space. Storage ideas for the space under your stairs are endless as you can get creative with what suits your home and your needs.
Under Stairs Desk or Home Office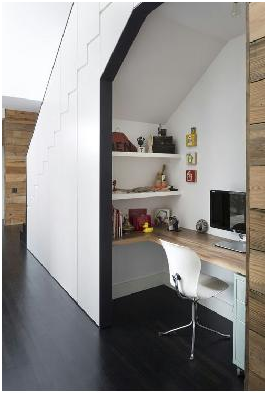 Always wanted to add a study area to your home, but never had enough room? Check out this study area under the stairs!
If you need extra room in your home for a study, there are many under stair storage ideas that can help you get more space in your home. Using the space under the stairs for a study is a great idea to increase spaces in your home where you can get work done. You can never have too much storage space available for your study as your desk can easily get cluttered with papers, pens and coffee mugs and it's a smart, productive and stylish way to make use of under stair space in your house. You can also add shelves as a way of increasing storage space under the stairs to help while you work and study!
Wardrobe – Under Stair Storage Ideas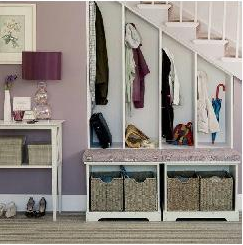 Shoes, umbrella's, winter coats… where do I put them?
It's easy to get overwhelmed with finding places to put your clothes and shoes around the house. If your cupboard is busting at the seams, you should consider installing a fitted custom coat closet that's built under the staircase. The unused space under your stairs can be used as a cupboard, an under stairs shoe storage space or even a powder room. By adding shelves or drawers, you can change all your unused staircase space into a closet. There are various storage ideas and storage solutions that can help you organise your home, but under stairs storage design ideas can improve the interior design of your house by adding character as well as storage space in your home.
Under Stairs Pantry Storage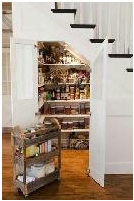 Need more space for your pantry? No problem – just organise a fitted pantry space under the staircase of your house!
The under stairs storage space solutions are endless if you want to organise a custom utility room for your kitchen space. You can install kitchen cabinets to store additional pantry items in your kitchen area and add shelves to place items that need to be accessed easily. These spaces are also suitable for a small wine room or custom wine cellar if you want upgrade your interior design and increase the value of your home. Adding additional shelves to have a wine rack is a great idea if you want to make the most of the storage space available. Our team can provide you with designs for your under stairs storage idea dreams so that you can choose the features that you need for your lifestyle.
Get in touch today!
There are literally TONNES of under stair storage ideas, these are just a few to inspire you. But your first step should be to find a company who specialises in creative storage solutions, built in wardrobes, custom wardrobes and walk in wardrobes, with a team of innovative wardrobe makers to help bring your dreams to life.
Versa Robes in Melbourne offer a FREE in‐home design and quote to get you started! Our team is made up of friendly professionals and experts who live and breathe custom storage solutions, and provide excellent service, assistance, and advice at every stage. We have many satisfied customers who have experienced our exceptional customer service and received brilliant storage solutions from our team. Don't miss out on our incredible offers, get in touch with us to find out more!