designed to suit your style, needs & budget
why waste time researching online?
call 03 9360 0123 for answers and advice or fill in your details and we will contact you to arrange a free design, measure and quote
wardrobes melbourne
basic, custom and luxury melbourne wardrobes individually designed just for you
Versa Robes have set the standard in Melbourne wardrobes for over 10 years, installing walk in and built in wardrobes in new and renovated homes across Melbourne for thousands of happy families and professional builders.
There are many things to consider when creating your built in or walk in robe like materials, colours, finishes, hanging spaces, shelving, drawers, accessories, sliding or hinged wardrobe doors.
Our talented team will design and build the perfect wardrobe just for you, that fits your space precisely, matches your home beautifully, suits your style perfectly and meets your budget nicely. 
call 03 9360 0123 to have your questions answered, get an estimate over the phone and book a free in home design, measure and quote.
first class service.   exceptional quality.   superior workmanship.
we provide unmatched personal service, we deliver custom designed high quality products, we professionally install with precision
frequently asked questions
call 03 9360 0123 for answers and advice or to discuss your ideas and get a price
reviews
over 11000 happy clients in 13 years, read what some of them have to say about their experience
"We just finished our new wardrobe installation on Friday. I just wanted to send you and the Versa Robes Team an email to say thank you and I'm really happy with the new robes. They look great! I'd particularly like to give some positive feedback for Goran who did the wardrobe installation – he was terrific – friendly, professional & tidy also."
"We have just had a kitchen glass splashback installed by Versa Robes. I am 100% happy with their customer service, quality and price. We were able to choose our own colour from the Dulux paint range, this means that the splashback coordinates perfectly with our colour scheme. Would absolutely recommend Versa Robes to my friends and family."
"This is the third time I have used Versa and I continue to be impressed. I asked them to look at a kitchen make over for me. The results are brilliant. It looks like we replaced the kitchen and started again. Customer service was great and the installation team were on time, completed the work to a very high standard and left the house clean and tidy afterward. I will continue to use them and recommend to friends."
"David has just finished installing our wardrobes. We are really happy with the final product. We really appreciate patient and co-operative approach of your team. Normally my wife is very meticulous about all these but she is very satisfied with the work and so am I. I am glad we opted Versa Robes. Convey our sincere thanks to David for his efforts and listening to our customised needs."
"We are extremely happy with our brand new wardrobes, the service and workmanship. Highly, highly recommend Versa Robes to anyone. They are the best in the business!!!"
"Good customer service from Versa Robes. Prompt response to query (email and phone), competitive pricing and timely installation of built-in wardrobes. Final product looks great."
"I would like to take this opportunity to also pass on to how pleased we are with the finished product. The wardrobe looks amazing and the quality outstanding. I would also like to add  how impressed we were with Goran, the wardrobe installer. He was the most polite, courteous tradesman we have ever had. He took time to ensure the workmanship of the installation was 100%. He tidied up after his work and treated our home and us with the utmost respect."
"We have asked Versa Robes on 3 occasions to measure and build 2 sets of 'Built in wardrobes' at different homes. On our first meeting, they spent time allowing us to explore options, they listened well, explained requirements and were open with costs. On each occasion, their measuring was exceptionally thorough.

They offer life long guarantees on their work, their wardrobes are solid, very nicely proportioned and we have been VERY happy with the outcomes. They look superior to anything else."
"My husband and I love it so much that when we enter the bedroom now it is like a new room has been added on to the house, it looks so modern.  Thank you for your expert and professional advice, guidance and ideas, I am glad I listened, the wood finish and the framing look fantastic together and blend in with the curtains and the whole room.  All I knew was I needed  a big cupboard and roughly what I wanted but I didn't know it would look as good as this!"
"I just wanted to let you know that we have had the robes completed and were extremely happy with the job. We were extremely happy with the job the installer did. I have recommended Versa to two other people in the last couple of days due to how pleased we are."
"From the first call I made, the staff organised a super quick inspection ; Daniel suggested an optimum design of the wardrobe to maximise space and ensured a timely installation. Gary installed it like perfection! Very happy with them and will surely recommend to anyone!"
"They provide quality customer service and products. Daniel was brilliant, from helping with the design at quote stage to follow up after installation. Kerry in Admin was helpful and pleasant to deal with. We love our new robes! Have already passed their details on to friends."
"I would recommend to all who are after a company that offers a great value product and service to match. My wife is extremely happy with our choice and proudly shows all of which are envious. It has been great to deal with this company. Thanks to the team at Versa."
"Friendly, straight forward and no fuss at all in delivering exactly what we were looking for and providing recommendations, install was over a day and our robes are fantastic."
"Special thanks to Tatiana, Goran, Danny and the team for doing such a great job!!! The customer service has been terrific throughout."
"I  just wanted to say what a pleasure it has been dealing with everyone at Versa Robes. Everyone I have met or talked to have been friendly and super helpful. On top of that the install of the robe was amazing and we are so happy with how it turned out. So a massive thanks to everyone."
"Brilliant service! Your installer was brilliant as was the service overall. We will recommend Versa to our friends and family."
why versa robes is the right choice
we've completed thousands of jobs for happy families, DIY renovators and professional builders servicing most suburbs across melbourne
we have completed jobs in just about every melbourne suburb, here are some of the popular areas we service
Point Cook
Werribee
Caroline Springs
Truganina
Tarneit
Yarraville
Footscray
Williamstown
Altona
Ascot Vale
Port Melbourne
Elwood
St. Kilda
Malvern
Armadale
Kew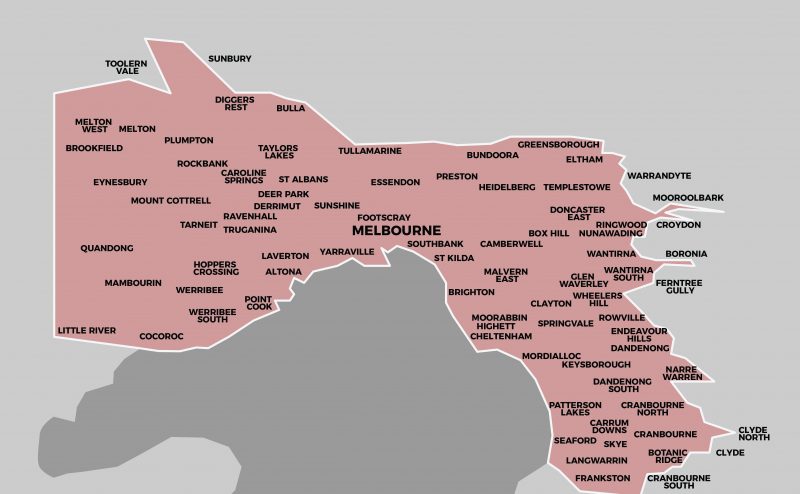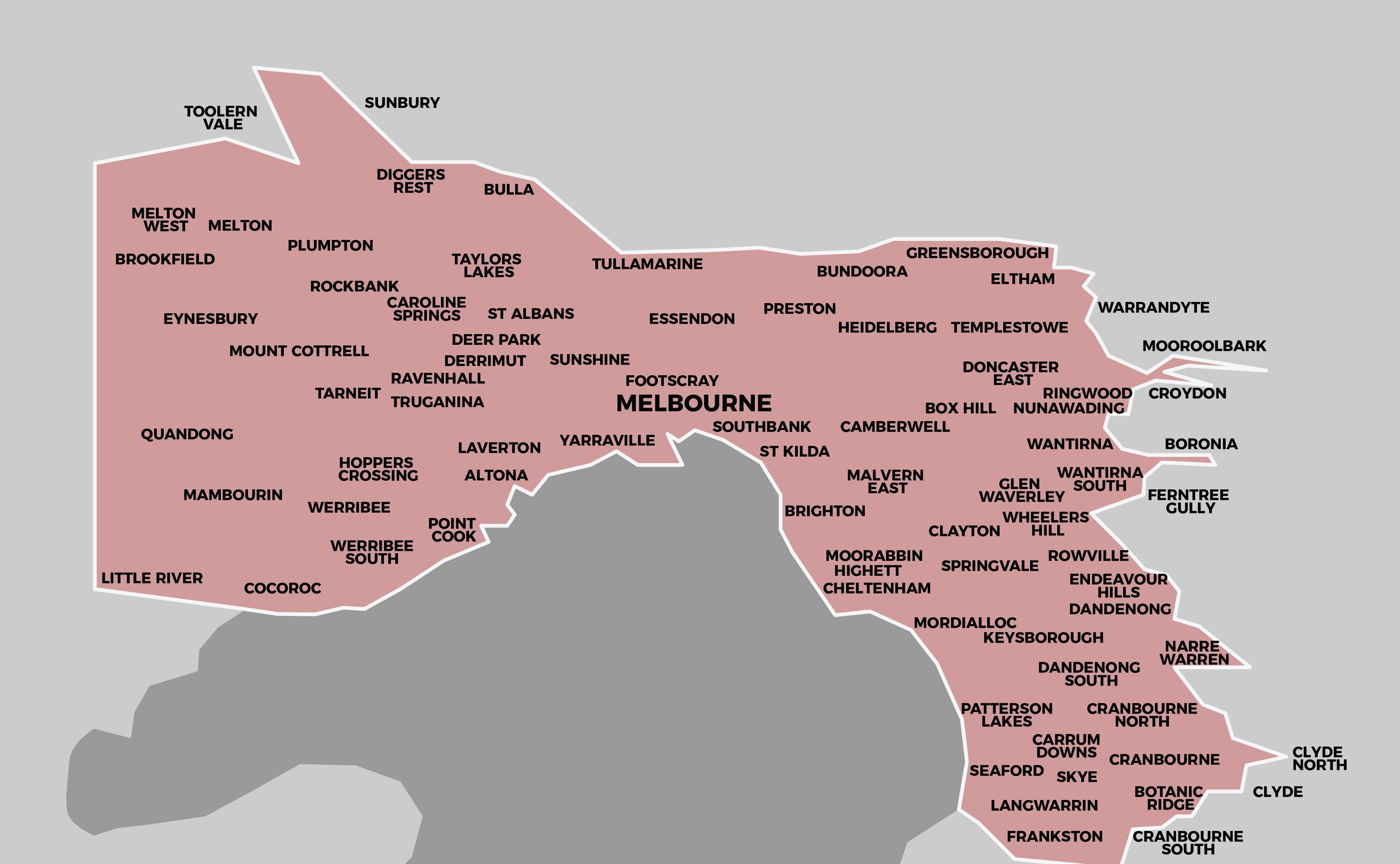 Toorak
South Yarra
Hawthorn
Richmond
Brunswick
Coburg
Berwick
Rockbank
Doncaster
Ringwood
Blackburn
Hampton
Brighton
Bentleigh
Melton
Sunbury
Toorak
South Yarra
Hawthorn
Richmond
Brunswick
Coburg
Berwick
Rockbank
Doncaster
Ringwood
Hampton
Brighton
Bentleigh
Melton
Sunbury
Point Cook

Werribee
Caroline Springs
Truganina
Tarneit
Yarraville
Footscray
Williamstown
Altona
Ascot Vale
Port Melbourne
Elwood
St. Kilda
Malvern
Armadale
Kew
customise your dream wardrobe with an extensive range of options to choose from
At Versa Robes – wardrobes Melbourne, we know just how much a well designed wardrobe can enhance the way you live at home. This is why we offer a vast range of options in customisation and design – all tailored and matched to your individual preferences, budget, lifestyle, and more.
If you are looking for mirror, coloured, timber or panel sliding wardrobes doors and hinged wardrobe doors, our team of expert Melbourne wardrobe makers and designers at Versa Robes, you'll receive completely personalised wardrobe solutions that you'll absolutely love.
From initial design to the final installation of your custom wardrobes, Versa Robes – wardrobes Melbourne is the team you can always rely on to deliver outstanding workmanship, fast, and friendly service.
work with leading wardrobe makers & designers in melbourne
When it comes to designing your perfect walk in or built in wardrobes Melbourne, we consider your wardrobes as if they'd be our own – placing the utmost quality, thoughtfulness, and consideration to creating the best storage experience possible.
Designing and building wardrobes is something we live and breathe by, so you'll find that our leading wardrobe makers and designers understand your ideas and empathise with your concerns just as much – if not more – than you do.
If you're after professional wardrobe designers who are committed to the highest standards of excellence and put your priorities first every time, then look no further than the team at Versa Robes Melbourne wardrobes.
versa robes have installed thousands of high quality and exceptionally designed wardrobes melbourne – for homeowners, families, professional builders, newly renovated homes, and more.
wardrobe manufacturers with years of experience
We've been designing wardrobes for happy Melbourne residents and business owners for over 10 years. Our expertise runs deep in a range of different wardrobe styles, designs, fits, and features. No matter how unique your wardrobe idea may be, we're the experts who will bring your ideas to life.
Versa Robes provides wardrobe services across many suburbs in Melbourne. After meeting our exceptionally talented team of wardrobe experts, you'll never need to search online for 'wardrobe makers near me' or 'around my area' in Melbourne ever again!
For wardrobe makers, installers and manufacturers nearby in Melbourne or near your area that you can confidently rely on, get in touch with the leading Melbourne wardrobe builders at Versa Robes today.